(SOURCE: http://www.pictures-of-puppies-and-dogs.com/images/breed/shih-tzu/shih_tzu_11.jpg)
Maybe one of the most popular breeds with its long and smooth coat that flows smoothly as silk, the Shih Tzu is a royalty on its own. And throughout history, the breed is also the preferred pets of the kings and queens (or should I say Emperors and Empress as this breed originated from China).
ORIGIN:
A Chinese descent, the Shih Tzu is said to be a result of cross-breeding a Lhasa Apso and Pekingese. If you look closely, the two breeds definitely look closely similar to both breeds. It's name is literally translated as "lion dog", although the breed definitely resembles a lion, it is just too cute and adorable to be considered wild.
(SOURCE: http://www.infobarrel.com/media/image/55512.jpg)
DESCRIPTION:
Usually stands up to 11 inches (from shoulder down) and weights around 9 to 16 pounds. The Shih Tzu has a long body, usually longer than its tail with a square-ish face and short muzzle. Its wide eyes give it an adorable look. But with its long silky coat, the Shih Tzu really boasts superiority and class over any other breeds.
CHARACTER:
Despite its royalty features, the Shih Tzu is a great companion, not just to its master but even with kids and other dogs alike. Play is definitely something that brightens up a Shih Tzu's mood, play doesn't only give the breed joy, but it is also a form of its fitness regime. Although like most dogs, the breed still needs to walk regularly but it can still be a great indoor playmate. It is an affectionate and sweet little thing but it can also be attention-seeking and utterly dependent. And because of its lovable features, the Shih Tzu has a tendency to be spoiled and demanding.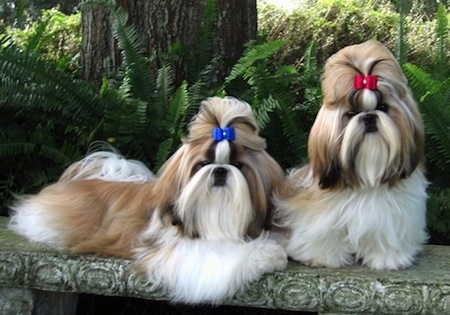 (SOURCE: http://www.dogbreedinfo.com/images24/ShihTzuPurebredDogsTianMisOver
TheTopJohnJAMCHTianMisIsadorableIzzy.jpg)
HEALTH AND WELLNESS:
Shih Tzu with its long back and short legs, the breed is prone to back and spinal conditions. The short muzzle makes the breed also prone to wheezing and snoring. Since most of them get little exercise and a truckload of affection, it is easily overfed and could end up being overweight which may heighten back problems. The nose, ears and eyes of the breed must also be cleaned regularly as it is prone to infections. Grooming is also something that Shih Tzu owners must be prepared with, the breed needs more than regular bathing and hygienic regimens, it also needs daily brushing to avoid fur tangles and maintain its silky coat features.