(SOURCE: http://2.bp.blogspot.com/-Hiq-51XBCso/T4WJkJGGweI/AAAAAAAAC_c/
Rrk-fd1qq7E/s1600/Dog%2Bin%2BFlood.jpg)
The current situation of the country with a large part of Manila and surrounding provinces affected by flood and continuous heavy rains, it is our responsibility to be prepared and anticipate what's about to happen. It's better to be prepared than to be sorry, right? And as a responsible pet owner, we should also think about the safety of our pets during these circumstances. Remember, our dogs depend on us, and they are part of your family too, so when the going gets tough, it's really unjust to leave them at risk. Here are some tips on how to make sure that our dogs can be safer and farther away from harm.
Have an emergency pet kit
And that includes first aid kit (medicines, bandages, antiseptic, etc.), pet food, pet carrier (ideally for cats and smaller dogs), drinking water and a blanket/towel (to keep them dry/warm). Always bring an extra collar and leash too, you may never know when you will need it. It's always wise to have an extra emergency bag for your pets so that your things will be organized and easy to manage when you're on the go.
(SOURCE: http://www.northwestmilitary.com/pets/new-to-nw/2010/03/The-Importance-of-Having
-a-Pet-First-Aid-Kit/uploads/articles/9636-banner-grace-sunny-dog-ink-first-aid-kit-fixed4.JPG)
Have a pet-friendly list
If it comes to a point that your home may be at risk, do not wait for the government to execute a mandatory evacuation. Evacuate as early as possible; not only is it a safer move for your family, you can also assure your pets' safety as well. Have a list of relatives and friends who can allow you to stay with your furry buddies. It's also wise to keep a contact number of animal shelters and pet hotels. Although it's much better to stay together, you may also include contact numbers of pet-friendly hotels where your family can stay with your dogs, just in case.
Bring important documents
In times of trouble, the possibility of your pets getting lost may be high. So it's important for you to have a copy of your pet's documents, veterinary records and recent photos. You should have a very detailed description of your pet ready as well. So that in case that your dog gets lost, it will be easier for rescuers to identify your dog from the crowd. At this point, it's advisable to have pet tags attached securely on a dog's collar.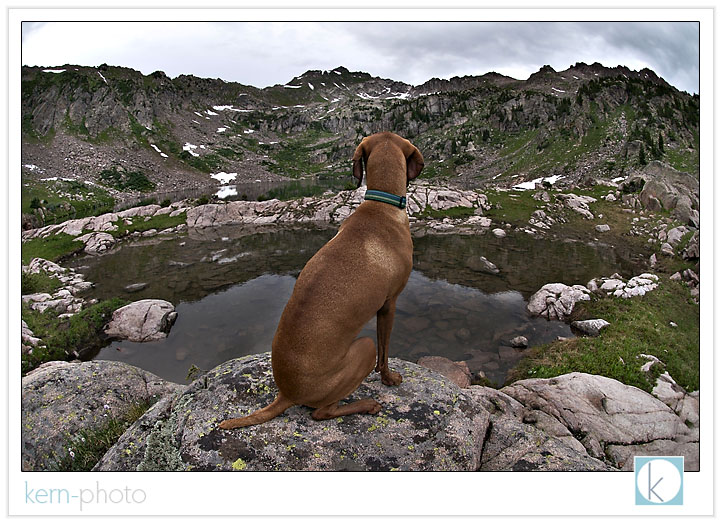 (SOURCE: http://www.kern-photo.com/blog/files/page1_blog_entry309_6.jpg)
Aim high!
It's important to keep in mind that in case of flood, aim high! The higher the place, the lesser the chance that flood water gets to you and your family (your furry family as well). You may think that a knee-high flood is alright, but for dogs and other pets, it is not!
Lastly, do not panic!
Your pets depend on you. Their lives depend on you. So you have to be responsible enough to think of a strategic plan to keep them safe and secured. If you panic, your dogs would also sense your emotions therefore they would also feel tensed about the situation and react accordingly. If they sense that you are calm and prepared, then it's easier for them to adapt and follow your lead. With a composed and clear mind, you are able to save not just your pets but your whole family as well.